Articles by category

: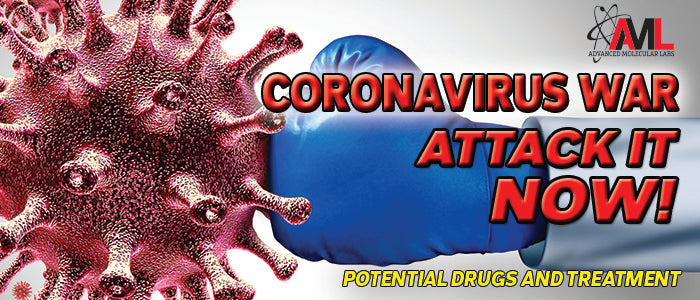 Coronavirus War! Attack It Now: Potential Drugs and Treatment
By Steve Blechman
On March 23, in my article entitled "Coronavirus Pandemic! Anti-Viral Drug Combo Now Available" (Advanced Molecular Labs.com), I reported that researchers and doctors in France, South Korea, and the United States are using the anti-malarial drug hydroxychloroquine in combination with azithromycin (brand name: Zithromax or Z-Pak), which is prescribed for upper respiratory infections. President Trump had announced a national trial, and emergency medical supplies of this drug combo were coming to New York on Tuesday, March 24th. The President was criticized at first but now he has the support of the U.S. Food and Drug Administration (FDA), Dr. Anthony Fauci, Director of the National Institute of Allergy and Infectious Diseases, and New York Governor Andrew Cuomo. There is now new data supporting this drug combo to treat the disease by doctors and major medical centers.
A team of researchers in China published results that hydroxychloroquine was effective in the test tube but researchers in France did a small human study with hydroxychloroquine combined with azithromycin. The study was published March 17, 2020 in the International Journal of Antimicrobial Agents. The results of the study found that 100% of the patients were cured by day six of the treatment with the combo drug compound compared to 57.1% of patients just treated with hydroxychloroquine alone. The authors of the French study most recently reported 80 hospitalized coronavirus patients receiving the drug combo. After 8 days of treatment, 93% of patients tested negative for the virus.
There is now new data supporting this drug combo to treat the disease by doctors and researchers from major medical centers. On Sunday, March 29, 2020 the FDA fast-tracked with emergency approval. The United States Department of Health and Human Services reported on Sunday, March 29, 2020 the drug company Novartis donated 30 million doses of hydroxychloroquine and pharmaceutical company Bayer contributed 1 million doses of chloroquine to the federal government and distributed to most in need. The FDA's emergency authorization will allow more doctors to prescribe the drug outside of clinical trials by doctors and hospitals.
Recently, Novartis CEO Vas Narasimhan told the Swiss newspaper that its malaria drug hydroxychloroquine is the drug maker's biggest hope against COVID-19. Also, it was reported that on Tuesday, March 31 the state of Louisiana shipped 400,000 of hydroxychloroquine for clinical trial. It was reported recently that Louisiana is an emerging hot spot and had a 30% increase in the coronavirus incidents in one day this week!
The World Health Organization (WHO) lists hydroxychloroquine and azithromycin as an essential medicine and considered to be most effective and safe to meet the important needs in the health system. Hydroxychloroquine has been available as a drug since 1995 and azithromycin since 1988; the drug combination has only been used recently. The drug combo can slow viral replication and regulate the overreaction of the immune system and lower the inflammation in the lungs. Sure, more controlled clinical trials and studies are needed but why wait if we can save lives!
Johnson and Johnson announced Monday, March 30 that its COVID-19 vaccine plans to begin Phase 1 clinical trials by September. J&J CEO Alex Gorsky said if it works it can be available early next year. He said that the key is after it is available to ramp up production to millions of doses early next year and billions later in the year!
Other existing anti-viral drugs and new unapproved drugs are under investigation at this time and being fast-tracked and brought to market as quickly as possible against the COVID-19 virus. These drugs include Remdesivir, an anti-viral drug from Gilead Sciences. Also, the anti-flu drug favipiravir. Drug maker Regeneron Pharmaceuticals is doing a clinical trial with an arthritis drug Kevzara as a coronavirus treatment in the U.S. and overseas.
Meanwhile, at least half a dozen biotech companies are working on antibody treatments against COVID-19. Blood is collected from coronavirus recovered patients who carry antibodies to COVID-19 and then would donate the plasma through someone who is seriously ill with the virus. 
What's known as convalescent plasma treatment was recently tested in five clinically ill patients with very promising results. The results of the study were most recently published in the Journal of the American Medical Association (JAMA, March 27, 2020). In March, doctors at St. John's University began testing convalescent treatment for COVID-19 until a safe and effective vaccine is on the market. 
Patients in New York with severe cases of COVID-19 may start reviewing experimental treatment of COVID-19 as early as this week. Many doctors and health authorities are hoping that people who are infected with COVID-19 and recovered develop antibodies against the virus and are protected by being infected again.
Henry Schein, Inc. announced on March 26, 2020 a rapid antibody test: "The availability of an antibody rapid blood test, known as standard Q COVID-19 test, intended to be administered at the point of care. The test delivers results within 15 minutes from a pinprick with no instrumentation required. 
"Henry Schein is working through multiple channels to distribute the tests in the United States as quickly as possible in response to the urgent need for a rapid accurate testing." The company started distributing the tests to health care professionals on March 30th. According to Henry Schein CEO Stanley Bergman, millions of tests will be available next week.
Another area of research is anti-inflammatory drugs that inhibit or lower cytokines in the body. In reaction to coronavirus infection, what's known as "cytokine storm" can occur in the body. A cytokine storm is an immune reaction to infection in the body, in which the immune system overproduces cytokines such as interleukin 6, which can damage the lungs and cause inflammation of the air sacks of the lung, which inhibits oxygen levels in the body.
We are at war with the coronavirus! This review provides the latest drugs and treatments being tested now to attack the coronavirus. These are not proven miracle cures or treatments but may save lives, lower the infection rate and spread of the virus until we have a vaccine hopefully in the next 12-15 months. For now, more testing, social distancing, shutdowns and properly washed hands are all vital to help win the coronavirus war to contain this virus and end this tragic pandemic.
Sources:
References:
Gautret et al. (2020) Hydroxychloroquine and azithromycin as a treatment of COVID‐19: results of an open‐label non‐randomized clinical trial. International Journal of Antimicrobial Agents – In Press 17 March 2020 – DOI: 10.1016/j.ijantimicag.2020.105949       
French study finds anti-malarial and antibiotic combo could reduce COVID-19 duration. Darrell Etherington@etherington/March 19, 2020.           
Chris Baraniuk. Chloroquine for COVID-19: Cutting Through the Hype. Mar 20, 2020. The Scientist.      
Andrew Dunn. A malaria pill from the 1940s has caught the eyes of doctors, analysts, and even Elon Musk as a potential coronavirus treatment. Mar 19, 2020. Business Insider.            
Aude Lecrubier. COVID-19: Could Hydroxychloroquine Really Be An Answer? March 18, 2020. The MedScape.           
Eric J. Rubin, M.D., Ph.D., Lindsey R. Baden, M.D., and Stephen Morrissey, Ph.D. Audio Interview: New Research on Possible Treatments for Covid-19. March 19, 2020. N Engl J Med 2020; 382:e30. DOI: 10.1056/NEJMe2005759           
COVID-19 Incubation Period: An Update by Stephen Baum Stephen G. Baum, MD reviewing Lauer SA et al. Ann Intern Med 2020 Mar 10, 2020        
COVID-19 treatment might already exist. Nevan Krogan - Professor and Director of Quantitative Biosciences Institute, University of California, San Francisco. March 26, 2020. Live Science.           
Jeff Colyer and Daniel Hinthorn. These Drugs Are Helping Our Coronavirus Patients. March 22, 2020. Wall Street Journal. 
Richard S. Hotchkiss, M.D. and Steven M. Opal, M.D. Activating Immunity to Fight a Foe - A New Path. March 26, 2020 N Engl J Med 2020; 382:1270-1272
DOI: 10.1056/NEJMcibr1917242
Anthony S. Fauci, M.D. et al. Covid-19 - Navigating the Uncharted. March 26, 2020 N Engl J Med 2020; 382:1268-1269 DOI: 10.1056/NEJMe2002387
John L. Hick, M.D. and Paul D. Biddinger, M.D. Novel Coronavirus and Old Lessons - Preparing the Health System for the Pandemic. New Eng J Med. March 25, 2020 DOI: 10.1056/NEJMp2005118 
Shen C, Wang Z, Zhao F, et al. Treatment of 5 Critically Ill Patients With COVID-19 With Convalescent Plasma. JAMA. Published online March 27, 2020. doi:10.1001/jama.2020.4783
Roback JD, Guarner J. Convalescent Plasma to Treat COVID-19: Possibilities and Challenges. JAMA. Published online March 27, 2020. doi:10.1001/jama.2020.4940
Arturo Casadevall, Liise-anne Pirofski. The convalescent sera option for containing COVID-19. Published April 1, 2020; First published March 13, 2020. Citation Information: J Clin Invest. 2020;130(4):1545-1548. https://doi.org/10.1172/JCI138003. 
Henry Schein Announces the Availability of a Coronavirus 2019 (COVID-19) Point-of-Care Antibody Rapid Test. BusinessWire March 26, 2020 https://www.businesswire.com/news/home/20200326005310/en/
Nicole Lurie, MD. Developing COVID-19 Vaccines at Pandemic Speed. New Eng J Med, March 30, 2020.