Articles by category

: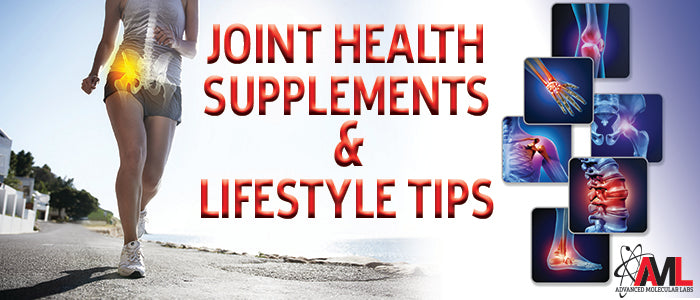 Joint Health Supplements & Lifestyle Tips
November 19, 2021
-
Admin
category: Health, Joint Cocktail, Performance, Recovery
By Robert Schinetsky
Joints are a fascinating component of the body.
They enable us to move in a variety of directions all the while offering stability and protection.
In many ways, you can liken the joints of the body to your overall health and immunity. You take it for granted, and you don't really start to appreciate them until it's too late. Otherwise healthy individuals rarely think of their joints when going about their day, much like they don't give much thought to what their immune system is doing on a minute by minute basis.
But, when pain and inflammation starts to set in and every twist, turn, or step leads to varying degrees of discomfort, you start to understand just how essential taking care of your joints is and thinking about ways to improve your joint health.
Lifestyle Changes and Pain Medications
The reality is that joint pain affects millions of individuals each and every day. An estimated 25% of adults live with knee pain. This type of joint pain is especially prevalent among elite athletes who willingly subject their bodies to immense amounts of stress on a daily basis.
In fact, a recent article in the Wall Street Journal noted that roughly 1 in 4 players in the NFL who have knee surgery eventually suffer with knee osteoarthritis. In case you weren't aware, osteoarthritis (inflammation of the joints) is the most common form of joint pain. Osteoarthritis occurs when the cushioning between the bones that make up a joint deteriorates. This leads to the bones rubbing directly against one another, causing pain and stiffness while simultaneously limiting range of motion and lowering overall quality of life.
Moreover, acute knee injuries, like those sustained during high-level athletic endeavors, can lead to faster onset of joint deterioration.
Interestingly, while osteoarthritis is inflammation of the joints, researchers debate whether the inflammatory reaction triggers the osteoarthritic changes, or is the inflammation secondary to the osteoarthritis changes (much like the chicken or egg scenario). Regardless, what many individuals are concerned with is how to eliminate or, at the very least, drastically reduce their joint pain.
Pain medication is often the first route individuals consider, but something that is just as important (if not more so) is lifestyle. Specifically, your levels of physical activity and body weight.
Weight management plays a vital role not only regarding symptom management of joint pain but also the long-term health and function of your joints. Being overweight or obese can predispose individuals to suffer from knee osteoarthritis. Not only does carrying around excess weight increase the overall mechanical stress on the joints, but it also contributes to higher levels of inflammation throughout the body as adipose tissue itself is a source of inflammatory factors. 
Specifically, the cytokines adipokine, IL6, TNF-ɑ, and C-reactive protein are elevated in obese patients and have been associated with changes in cartilage homeostasis as well as cartilage degeneration.[1] 
Furthermore, during walking, the knee joint has to support 3–5 times the body weight! What this means is that even small changes in body weight can lead to drastic variation of forces on the joint.
Additional research notes that for every point reduction in body fat percentage represents a 28% increase in function and a 9.4% improvement in the Western Ontario and McMaster Universities Osteoarthritis Index (WOMAC) score![4]
So, the importance of maintaining high levels of physical activity, eating a healthy diet, and maintaining a healthy body weight cannot be ignored when discussing ways to improve your joint health.
We mentioned previously that assorted medications (acetaminophen, NSAIDs, and opioids) have been used to help individuals manage pain and help reduce inflammation in the body. And while they may provide some benefit, these medications present with considerable risks, including adverse effects on the gastrointestinal, renal, cardiac, and circulatory systems of the body.[1]
Additionally, research also indicates that opioids are not superior to NSAIDs to improve osteoarthritis pain or WOMAC scores, and the risks of their use clearly outweigh the potential upsides.[2]
To top it off, a recent meta-analysis titled "Effectiveness and safety of non-steroidal anti-inflammatory drugs and opioid treatment for knee and hip osteoarthritis: network meta-analysis" concluded:
"The clinical benefit of opioid treatment, regardless of preparation or dose, does not outweigh the harm it might cause in patients with osteoarthritis."[3]
Fortunately, there are natural alternatives to help support joint health.†
Natural Joint Health Supplements
No ingredient is more well-known for its anti-inflammatory properties than turmeric, more specifically curcumin.†
Turmeric has a long history of use in traditional Chinese and Ayurvedic medicines. The bioactive components of turmeric, mainly curcumin and demethoxycurcumin, bis-demethoxycurcumin, and turmeric essential oils, possess anti-inflammatory activities and modify NF-κB signaling as well as proinflammatory cytokines such as interleukin production and phospholipase A2, COX-2, and 5-LOX activities. 
In fact, a newly published meta-analysis titled "Effect of curcumin on C-reactive protein as a biomarker of systemic inflammation: An updated meta-analysis of randomized controlled trials" concluded that:
"A significant effect of curcumin consumption was detected on the serum level of hs-CRP in studies with prescribing ≤1,000 mg/day, and those with ≤10-week duration of intervention. Curcumin consumption resulted in a reduction of hs-CRP in a non-linear fashion with stronger effects with less than 2000 mg curcumin per day. Curcumin seems to be beneficial in decreasing the hs-CRP and CRP levels in proinflammatory settings."[5]†
A separately published meta-analysis of RCTs in the journal Cytokine also found concluded that "Curcumin could have a beneficial effect in reducing the proinflammatory cytokines IL-1 and TNF-α, but not IL-6 and IL-8 levels."[6]†
AML Joint Cocktail, our own specially formulated joint health supplement, supplies 300mg of turmeric in the form of Turmipure Gold.
Conventional turmeric and curcumin supplements suffer from a lack of bioavailability, which means you would have to take a rather large dose to derive any meaningful effect.
Turmipure Gold is an enhanced turmeric extract formulation offering very high assimilation compared to commercially available turmeric preparations. Each 300 mg dose TurmiPure Gold® (the same dose used in AML Joint Cocktail) supplies 90 mg of curcuminoids (including 69 mg of curcumin) formulated in a patent-pending water-dispersible colloidal suspension. 
Essentially, this allows for more efficient absorption. 
In fact, pharmacokinetic data indicates that a dose of 1922mg of a standard turmeric extract (95% curcuminoids) or 2264mg of a turmeric extract (95% curcuminoids-piperine combination) to equal the bioavailability or bioactivity found with 300mg of TurmiPure Gold®!
AML Joint Cocktail also supplies several other ingredients to help combat inflammation including ginger root extract, boswellia serrata (as ApresFlex), and MSM, and it also includes crucial nutrient that help replenish and support the very structures that make up your joints, including 10,000mg hydrolyzed collagen, 40mg UC-II, glucosamine and chondroitin.
Quite simply, Joint Cocktail is the most complete joint support formula on the market, supplying 17 grams of premium-quality ingredients. 
To put this into perspective, most joint formulas you'll find contain 3-4 grams of active ingredients (at most).
What this means is that you would need to take 20+ capsules to get the same clinical-researched dosages as the ones contained in a single serving of AML Joint Cocktail. Plus, Joint Cocktail comes in an easy-to-mix, delicious-tasting powder, which not only supports faster digestion and absorption, but also negates the need to choke down a giant handful of capsules.
The bottom line is that if you're looking for the premier joint health supplement on the market, the choice is easy -- AML Joint Cocktail. 
©Published by from Advanced Research Media, Inc. 2021
©Reprinted with permission from Advanced Research Media, Inc.
† These statements have not been evaluated by the Food and Drug Administration.
These statements are not intended to diagnose, treat, cure or prevent any disease.
References
Mora JC, Przkora R, Cruz-Almeida Y. Knee osteoarthritis: pathophysiology and current treatment modalities. J Pain Res. 2018;11:2189-2196. Published 2018 Oct 5. doi:10.2147/JPR.S154002

Bannuru RR, Schmid CH, Kent DM, Vaysbrot EE, Wong JB, Mcalindon TE. Comparative effectiveness of pharmacologic interventions for knee osteoarthritis: a systematic review and network meta-analysis. Ann Intern Med. 2015;162(1):46–54. 

da Costa BR, Pereira TV, Saadat P, Rudnicki M, Iskander SM, Bodmer NS, Bobos P, Gao L, Kiyomoto HD, Montezuma T, Almeida MO, Cheng PS, Hincapié CA, Hari R, Sutton AJ, Tugwell P, Hawker GA, Jüni P. Effectiveness and safety of non-steroidal anti-inflammatory drugs and opioid treatment for knee and hip osteoarthritis: network meta-analysis. BMJ. 2021 Oct 12;375:n2321. doi: 10.1136/bmj.n2321. PMID: 34642179; PMCID: PMC8506236.

Christensen R, Astrup A, Bliddal H. Weight loss: the treatment of choice for knee osteoarthritis? A randomized trial. Osteoarthritis Cartilage. 2005;13(1):20–27.

Gorabi, A. M.,  Abbasifard, M.,  Imani, D.,  Aslani, S.,  Razi, B.,  Alizadeh, S.,  Bagheri-Hosseinabadi, Z., Sathyapalan, T., &  Sahebkar, A. (2021).  Effect of curcumin on C-reactive protein as a biomarker of systemic inflammation: An updated meta-analysis of randomized controlled trials. Phytotherapy Research,  1– 13.

https://doi.org/10.1002/ptr.7284

Gorabi AM, Razi B, Aslani S, Abbasifard M, Imani D, Sathyapalan T, Sahebkar A. Effect of curcumin on proinflammatory cytokines: A meta-analysis of randomized controlled trials. Cytokine. 2021 Jul;143:155541. doi: 10.1016/j.cyto.2021.155541. Epub 2021 Apr 29. PMID: 33934954.