Articles by category

: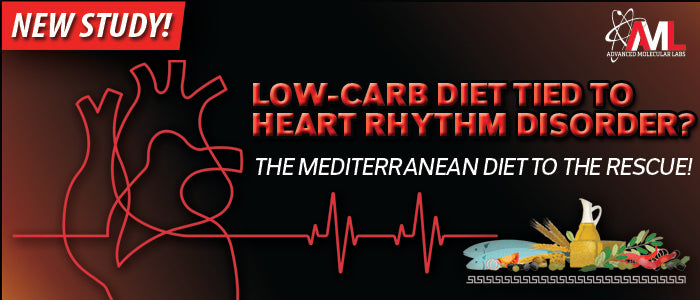 LOW-CARB DIET TIED TO HEART RHYTHM DISORDER? The Mediterranean Diet to the Rescue!
New Study!
By Steve Blechman
A new study by the American College of Cardiology has shown that a low-carb diet could be tied to a heart rhythm disorder known as atrial fibrillation (AFib), which is the most common heart rhythm disorder. The research will be presented on March 16th and March 17th in New Orleans at the Annual American College of Cardiology 68th Annual Scientific Session. A press release dated March 6, 2019 stated, "The study, which analyzed the health records of nearly 14,000 people spanning more than two decades, is the first and largest to assess the relationship between carbohydrate intake and AFib. With AFib, a type of arrhythmia, the heart doesn't always beat or keep pace the way it should, which can lead to palpitations, dizziness and fatigue. People with AFib are five times more likely to have a stroke than people without the condition. It can also lead to heart failure."
"Several potential mechanisms could explain why restricting carbohydrates might lead to AFib," said Xiaodong Zhuang, MD, Ph.D., a cardiologist at the hospital affiliated with Sun Yat-Sen University in Guangzhou, China, and the study's lead author. "One is that people eating a low-carbohydrate diet tend to eat fewer vegetables, fruits and grains— foods that are known to reduce inflammation. Without these foods people may experience more inflammation, which has been linked with AFib. Another possible explanation is that eating more protein and fat in lieu of carbohydrate-rich foods may lead to oxidative stress, which has also been associated with AFib. Finally, the effect could be related to an increased risk of other forms of cardiovascular disease."
Zhuang said that while the research shows an association, it cannot prove cause and effect. A randomized controlled trial would be needed to confirm the relationship between carbohydrate intake and AFib and assess the effect in a more ethnically diverse population.
A recent article in ScienceDaily reported on the findings and stated, "People who regularly got fewer than 45 percent of their calories from carbohydrates were 18 percent more likely to develop AFib than people who ate a moderate amount of carbohydrates (about 45 percent to 52 percent of their calories)."
The Diet Doctor's Dr., Bret Scher, MD reports in his article, "While 40% may be low carb by Standard American Diet (SAD) standards, it is a far cry from the less than 50 or even 20 grams of carbs to which most low-carb eaters adhere. There is a reason for the differentiation. At 40% carbs, our bodies are still burning carbs and glucose for fuel. So what happens to the fat? It gets stored. Or worse, it gets oxidized and stored. Either way, the combined high-carb and high-fat diet is the one that is most prone for health problems."
Dr. Scher also poses the question, "Did people decrease their carb intake from very high to slightly high (from more than 60% to less than 40%) because they were obese and wanted to lose weight? Did they have diabetes or hypertension and wanted to improve them?"
That doesn't seem like a low carb diet to me! Dr. Scher mentions, "Obesity, sleep apnea, hypertension and diabetes are all risk factors for atrial fibrillation. It turns out that a low-carb diet (the real low carb diet, not the fake one in this study) improves obesity, sleep apnea, hypertension and diabetes."
When followed correctly, the low-carb diet is a powerful diet to improve health, such as the Thermo Heat® Low-Carb Mediterranean Diet. US News & World Report recently named the Mediterranean Diet as the best diet for overall health.
The obesity epidemic is upon us— about four in 10 Americans are obese! The keto diet was the number one Google-searched diet for 2018. The keto craze is on the rise! Many celebrities seem to be on it. Last year I reported why the low-carb Mediterranean diet was the best diet for 2018 and it is still the best diet for 2019 based on the latest scientific research! In 2018, U.S. News & World Report ranked the Mediterranean diet as the best overall diet for healthy eating, tied with the Dash Diet. The Mediterranean diet was also ranked number one for the easiest diet to follow; best diet for diabetes; best heart-healthy diet and best plant-based diet too. This year, US News & World Report selected the Mediterranean Diet as the best overall diet for 2019 (US News & World Report; Jan 2nd, 2019). It was also rated the best diet for preventing heart disease and diabetes. The keto diet was ranked 38 for overall diets! It was tied for first place for fast weight loss but not best in the long run because of the high amount of unhealthy saturated fats, which can raise the risk of cardiovascular disease. These results were based on a panel of 23 experts, and 41 diets based on the scientific literature. The expert panel consisted of the country's top nutrition experts and physicians specializing in weight loss, diabetes and cardiovascular disease.
The results of a major recent randomized controlled study in young adults, that appeared in the journal Atherosclerosis (October 17, 2018) found a ketogenic high-saturated fat, low-carb diet (less than 20 grams per day) on average increased LDL-C (the bad cholesterol) 44% in healthy adults. The response from this high-saturated fat, low-carb diet averaged a 5% to 107% increase of LDL-C. This is very concerning! It is important that LDL-C should be measured in those following a high saturated fat, low-carb diet such as traditional Atkins diet or ketogenic diet. What's also concerning is there was a significant increase in apolipoprotein B (apoB). High apoB levels are a very high risk for atherosclerosis and cardiovascular disease! Any diet that restricts carbohydrate and calories will result in weight loss, but a high saturated fat diet that raises LDL cholesterol is not healthy, even though you are losing weight!
A study showed that the Mediterranean style diet may also lower women's stroke risk, which was reported by the American Heart Association's journal Stroke in October 2018. Another Harvard study published in the Journal of the American Medical Association (JAMA) on December 7, 2018, found a 25% reduction in cardiovascular risk on the Mediterranean diet! Extra-virgin olive oil (EVOO) is a major component of the Mediterranean diet, which has been shown to have anti-inflammatory, antioxidant and cardiovascular protective properties. A most recent study found that olive oil once a week lowered platelet activation preventing clots, lowering the risk of stroke and heart attack. More than one serving a week or three or four times a week had a greater effect! This study was presented Thursday, March 7th at a meeting of the American Heart Association in Houston.
In an article by Earl Holland Jr. on the website Healio, researcher Sean P. Heffron, MD, MS, MSc, an assistant professor at NYU School of Medicine and the NYU Center for the Prevention of Cardiovascular Disease, stated in the press release for the study, "People who are obese are at increased risk of having a heart attack, stroke or other cardiovascular event, even if they don't have diabetes or other obesity-associated conditions."
Dr. Heffron also said, "Our study suggests that choosing to eat olive oil may have the potential to help modify that risk, potentially lowering an obese person's threat of having a heart attack or stroke." The researchers analyzed 63 healthy participants with obesity but without prior cardiovascular disease.
Finally, a study published in the International Journal of Cardiology on November 27, 2018 reported that the cholesterol-lowering statin drugs worked best when combined with a Mediterranean Diet compared to statin drugs alone! Lowering inflammation and LDL (bad cholesterol) seems to be the likely synergistic benefit of combining the Mediterranean diet and statin drugs in people with cardiovascular disease and lowering mortality risk.
Several studies have shown that a low-carb, ketogenic Mediterranean diet is a healthier alternative to low-carb, ketogenic high-saturated fat diets for weight loss. It has the favorable effect on non-atherogenic lipid profiles lowering LDL cholesterol, triglycerides, lowering blood pressure and inflammation and improving fasting blood glucose levels, and reduction in waist circumference.
Also, it was recently reported that only 12% of Americans are considered metabolically healthy! Diabetes is rampant. Studies have shown that people with diabetes, or high blood sugar, do better and benefit more on a diet lower in carbohydrates. The research has shown that the low-carb Mediterranean diet is clearly the best diet for weight loss and metabolic health!
The Mediterranean diet has also been shown to be a key trigger for activating brown fat. The body has two forms of fat— white fat and brown fat. Brown fat burns calories. The more brown fat you have, the more calories you burn. The capability of harnessing one's own brown fat for fat burning is revolutionary! The ability to get lean by producing extra brown fat and enhancing and activating existing brown fat represents a promising way to burn fat. Several landmark discoveries and approaches to this are being explored at major research centers and universities worldwide, with great excitement! Brown fat research is a hot topic today!
The book The Thermo Heat® Weight Loss Revolution by Michael Rudolph, Ph.D. provides a calorie-controlled low-carb Mediterranean diet, 30-day meal plan and exercise program. It says that you should limit yourself to 100 grams of carbohydrates per day, or less. If you want to follow the ketogenic diet, carbohydrates should be kept at less than 50 grams per day. Processed food and sugar is off the table! The Thermo Heat® Weight Loss Revolution stresses foods high in monounsaturated and omega-3 polyunsaturated fatty acids. It also recommends thermogenic brown fat-activating herbs and spices instead of salt to flavor food, such as garlic, onion, mustard and chili pepper (capsaicin), to name a few. Monounsaturated fats are more thermogenic than saturated fats found in high-fat dairy and red meat. Because of ease of compliance, The Thermo Heat® Weight Loss Revolution Mediterranean diet makes it easy to follow even when dining out. One or two glasses of polyphenol-rich red wine (not white wine, or any other alcoholic beverages) per day can have positive health benefits on the Mediterranean diet. Studies show that olive oil and certain spices can enhance brown fat and increase thermogenesis. A number of studies have shown that healthy fats from nuts, olive oil and fish, found predominantly in Italian, Greek and Turkish cuisine, have health benefits in the prevention of heart disease, type 2 diabetes, and obesity. Fish oil and omega-3 fats can decrease bodyweight gain and fat accumulation by increasing thermogenesis and energy expenditure.
For more authoritative information, see The Thermo Heat® Weight Loss Revolution, by Michael J. Rudolph, Ph.D, including the foreword by Daniel L. Friedman, MD and Eugene B Friedman, MD. You can click the link to order on Amazon here. The Thermo Heat®Weight Loss Revolution is a groundbreaking scientific plan based on research involving brown fat (BAT). The Thermo Heat® Weight Loss Revolution offers its readers a brown fat, thermogenic and brown-fat-activating-diet, nutrition, supplement(s) and exercise program. Check with your physician if you have a medical condition, or before beginning any diet or supplement program.
References:
Low-Carb Diet Tied to Common Heart Rhythm Disorder Study suggests using caution when restricting carbohydrates for weight loss. American College of Cardiology Mar 06, 2019 https://www.acc.org/about-acc/press-releases/2019/03/06/10/29/low-carb-diet-tied-to-common-heart-rhythm-disorder 
American College of Cardiology. "Low-carb diet tied to common heart rhythm disorder: Study suggests using caution when restricting carbohydrates for weight loss." ScienceDaily. ScienceDaily, 6 March 2019. <www.sciencedaily.com/releases/2019/03/190306081652.htm>.
Zhang R, et al. Abstract P335. Presented at: EPI-Lifestyle 2019 Scientific Sessions; March 5-8, 2019; Houston.
Inaccurate news stories suggest low carb causes atrial fibrillation by Dr. Bret Scher, MD https://www.dietdoctor.com/inaccurate-news-stories-suggest-low-carb-causes-atrial-fibrillation
U.S. News Reveals Best Diets Rankings for 2018. January 3, 2018 US News & World Report.
Low-Carb Diets Linked to Higher Odds for A-Fib by Serana Gordon, March 6, 2019 https://www.usnews.com/news/health-news/articles/2019-03-06/low-carb-diets-linked-to-higher-odds-for-a-fib 
Mediterranean Diet Reduces Risk of Incident Stroke in a Population With Varying Cardiovascular Disease Risk Profiles. Paterson, K. E., Myint, P. K., Jennings, A., Bain, L., Lentjes, M., Khaw, K. T., & Welch, A. A. (Oct 2018). Stroke, 49 (10), 2415-2420. Advance online publication. doi:10.1161/STROKEAHA.117.020258
Ahmad S, Moorthy MV, Demler OV, et al. Assessment of Risk Factors and Biomarkers Associated With Risk of Cardiovascular Disease Among Women Consuming a Mediterranean Diet. JAMA Netw Open. Dec. 7, 2018;1(8):e185708. doi:10.1001/jamanetworkopen.2018.5708 
Effect of low carbohydrate high fat diet on LDL cholesterol and gene expression in normal-weight, young adults: A randomized controlled study.Retterstøl, Kjetil et al. Atherosclerosis , Volume 279 , 52 – 61
Frequent olive oil intake may reduce platelet activity in adults with obesity. March 7, 2019. Earl Holland, Jr. Healio https://www.healio.com/cardiology/chd-prevention/news/online/%7B5c3c6f7b-f76d-4c0b-88ea-58c1a9c4b5d3%7D/frequent-olive-oil-intake-may-reduce-platelet-activity-in-adults-with-obesity
Spanish Ketogenic Mediterranean diet: a healthy cardiovascular diet for weight loss. Nutrition Journal, 2008, Volume 7, Number 1, Page 1. Joaquín Pérez-Guisado, Andrés Muñoz-Serrano, Ángeles Alonso-Moraga
Effect of ketogenic Mediterranean diet with phytoextracts and low carbohydrates/high-protein meals on weight, cardiovascular risk factors, body composition and diet compliance in Italian council employees. Paoli, A., Cenci, L., & Grimaldi, K. A. (2011). Nutrition journal, 10, 112. doi:10.1186/1475-2891-10-112
Long-term successful weight loss with a combination biphasic ketogenic Mediterranean diet and Mediterranean diet maintenance protocol. Paoli, A., Bianco, A., Grimaldi, K. A., Lodi, A., & Bosco, G. (2013). Nutrients, 5 (12), 5205-17. doi:10.3390/nu5125205