Articles by category

: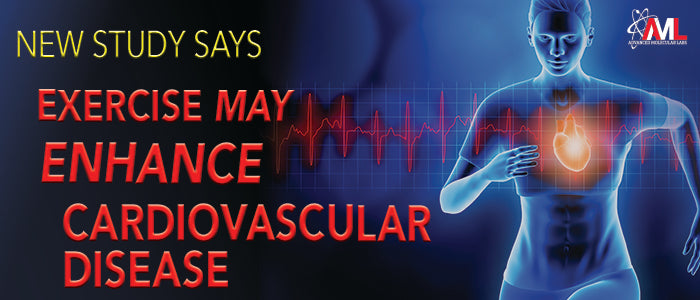 New Study Says Exercise May Enhance Cardiovascular Disease?
November 10, 2021
-
Admin
category: Fat Burning, Health, Sleep, Strength, Thermo Heat™ Weight Loss Revolution
By Steve Blechman
Most people believe that exercise is good for your heart and the prevention of cardiovascular disease. A very concerning and shocking new study published in the journal Heart on September 20th, 2021, reported that exercise enhanced the progression of coronary artery calcified plaque. The more exercise, the greater the amount of calcium plaque in coronary arteries!
This was determined by measuring coronary artery calcium (CAC) scores. "This study aimed to evaluate the prospective association between physical activity and CAC scores in apparently healthy adults," the researches said.     
It was a five-year study that analyzed 25,485 participants. The conclusion of the study "found a positive, graded association between physical activity and the prevalence and the progression of CAC, regardless of baseline CAC scores."          
Today, many physicians and cardiologists believe that CAC score measurements taken by cardiac imaging CT scans are an effective way to diagnose cardiovascular risk assessment in healthy individuals, and future risk of having a myocardial infarction (heart attack).          
According to the Cleveland Clinic, "A calcium-score screening heart test (coronary calcium scan) uses computerized tomography (CT) to detect calcium deposits in the coronary arteries of heart. A higher coronary calcium-score suggests you have a higher chance of significant narrowing in the coronary arteries and a higher risk of future heart attack."          
Recently, calcium-score screening heart tests have become controversial by some experts. Why? "Because there are certain forms of coronary disease such as "soft plaque" atherosclerosis that escape detection during this CT scan, it is important to remember that this test is not an absolute in predicting your risk for a life-threatening event, such as a heart attack," as per my.clevelandclinic.org.          
If you have the family history of coronary heart disease or other risk factors such as diabetes, hypertension and elevated LDL (bad cholesterol), your physician may prescribe a class of drugs called statins. Statins lower LDL cholesterol and the risk of heart attack. Statins also have been shown to prevent the progression of soft plaque in our coronary arteries. Recent research also suggests that statins, like exercise, can increase coronary artery calcium and stabilized calcified plaque, which may lower the risk of heart attack. Is calcified plaque safer than soft plaque in preventing heart attacks? Possibly! By stabilizing plaque like a band-aid helping to prevent plaque from breaking off the artery wall – which can prevent thrombosis from a blood clot, blocking arteries and blood flow to the heart, causing a life-threatening heart attack or stroke.          
Remember Jim Fixx, the running guru, marathon runner and bestselling author? He died at the early age of 52 on July 20th, 1984 of a heart attack after his daily run. He had a family history of heart disease. His father had a heart attack and died at the age of 43. He sold millions of copies of his book The Complete Book of Running published in 1977 that helped make running popular.
The death of Jim Fixx created a scare around the world for runners and many exercise enthusiasts! Family history is the number one risk factor for coronary vascular disease. Fixx had a strong family history and ignored his symptoms – and the proper blood test and medical diagnostic procedures that could have helped him prevent a heart attack and death at such an early age. Fixx was also known to not follow a healthy diet!
For the fourth consecutive year, U.S. News & World Report ranked the Mediterranean diet as the #1 Best Overall Diet. The article says, "Research suggests that the diet can ward off chronic diseases and improve longevity." The Mediterranean diet was also tied as #1 for the easiest diet to follow: the best diet for diabetes; best heart-healthy diet, and best plant-based diet too. These results were based on a panel of 23 experts, and 41 diets based the scientific literature. The expert panel consisted of the country's top nutrition experts and physicians specializing in weight loss, diabetes, and cardiovascular disease. I have been an advocate of the Mediterranean diet for over 25 years.        
The Mediterranean diet is the healthiest diet based on the latest scientific research. A healthy diet and lifestyle changes, such as following the anti-inflammatory Mediterranean diet along with exercise, has been shown to lower the risk of obesity, metabolic syndrome and high-risk ailments such as cardiovascular disease and diabetes. A randomized crossover trial published in the September-October 2019 Journal of the American College of Nutrition found that a short-term Mediterranean diet can improve endurance/exercise performance, "in as little as 4 days."          
The Mediterranean diet is high in fish containing omega-3 fatty acids, in addition to antioxidant-rich vegetables, red wine and berries rich in polyphenols, beans, lentils, nuts, legumes and extra-virgin-olive oil that are rich in healthy monounsaturated polyunsaturated fats and low in saturated fats. A recent study by Harvard researchers and reported by the American Heart Association (March 5, 2020) and published in the Journal of the American College of Cardiology (March 2020) found that as little as half a tablespoon of olive oil a day was linked to significant decrease in cardiovascular disease. Research has shown that omega-3 fatty acids found in fatty fish such as salmon have potent anti-inflammatory properties and reduced inflammation and protect against heart disease. Research has shown that inflammation is a major risk factor for cardiovascular disease.
In Conclusion:
We know that it takes more than exercise to help prevent coronary vascular disease and having a heart attack. Lack of exercise and being sedentary can increase your risk of heart disease caused by hypertension, obesity and diabetes!         
If you have a family history of coronary heart disease, see your physician or cardiologist and get all the proper blood work (measuring your c-reactive protein, blood glucose and LDL cholesterol). It was reported most recently in JAMA Cardiology that the longer a person has elevated LDL cholesterol, the greater the risk of suffering a heart attack.         
Take charge of your life now! Lower your LDL cholesterol, blood pressure, blood glucose, inflammation, and control your bodyweight. Also, follow a healthy anti-inflammatory Mediterranean diet!
 
References:
Sung K, Hong YS, Lee J, et al. Physical activity and the progression of coronary artery calcification Heart 2021;107:1710-1716.
Physical activity may hasten plaque buildup in the coronary arteries, finds research. Reviewed by Emily Henderson, B.Sc. September 21, 2021. News Medical Life Sciences https://www.news-medical.net/news/20210921/Physical-activity-may-hasten-plaque-build-up-in-the-coronary-arteries-finds-research.aspx
Gulsin GS, Moss AJ. Coronary artery calcium paradox and physical activity. Heart 2021;107:1686-1687.
Calcium-Score Screening Heart Scan. Cleveland Clinic. Health Library. https://my.clevelandclinic.org/health/diagnostics/16824-calcium-score-screening-heart-scan
Zhang Y, Pletcher MJ, Vittinghoff E, et al. Association Between Cumulative Low-Density Lipoprotein Cholesterol Exposure During Young Adulthood and Middle Age and Risk of Cardiovascular Events. JAMA Cardiol. Published online September 22, 2021. doi:10.1001/jamacardio.2021.3508
Olive oil may lower heart disease risk. American Heart Association News. March 5, 2020. https://www.heart.org/en/news/2020/03/05/olive-oil-may-lower-heart-disease-risk
Olive Oil Consumption and Cardiovascular Risk in U.S. Adults. Marta Guasch-Ferré, Gang Liu, Yanping Li, Laura Sampson, JoAnn E. Manson, Jordi Salas-Salvadó, Miguel A. Martínez-González, Meir J. Stampfer, Walter C. Willett, Qi Sun, Frank B. Hu. Journal of the American College of Cardiology. April 2020. https://doi.org/10.1016/j.jacc.2020.02.036
Razquin C, Martinez-Gonzalez MA. A Traditional Mediterranean Diet Effectively Reduces Inflammation and Improves Cardiovascular Health. Nutrients. 2019;11(8):1842. Published 2019 Aug 9. doi:10.3390/nu11081842
Fish Consumption in Healthy Adults Is Associated with Decreased Circulating Biomarkers of Endothelial Dysfunction and Inflammation during a 6-Year Follow-Up. Bas C. T. van Bussel, Ronald M. A. Henry, Casper G. Schalkwijk, Isabel Ferreira, Edith J. M. Feskens, Martinette T. Streppel, Yvo M. Smulders, Jos W. R. Twisk, Coen D. A. Stehouwer. The Journal of Nutrition, Volume 141, Issue 9, September 2011, Pages 1719-1725, https://doi.org/10.3945/jn.111.139733
Ratih Wirapuspita Wisnuwardani, Stefaan De Henauw, Marika Ferrari, Maria Forsner, Frédéric Gottrand, Inge Huybrechts, Antonios G Kafatos, Mathilde Kersting, Viktoria Knaze, Yannis Manios, Ascensión Marcos, Dénes Molnár, Joseph A Rothwell, Azahara Iris Rupérez, Augustin Scalbert, Kurt Widhalm, Luis A Moreno, Nathalie Michels. Total Polyphenol Intake Is Inversely Associated with a Pro/Anti-Inflammatory Biomarker Ratio in European Adolescents of the HELENA Study, The Journal of Nutrition, nxaa064, https://doi.org/10.1093/jn/nxaa064
Spanish Ketogenic Mediterranean diet: a healthy cardiovascular diet for weight loss. Nutrition Journal, 2008, Volume 7, Number 1, Page 1. Joaquín Pérez-Guisado, Andrés Muñoz-Serrano, Ángeles Alonso-Moraga.
Long-term successful weight loss with a combination biphasic ketogenic Mediterranean diet and Mediterranean diet maintenance protocol. Paoli, A., Bianco, A., Grimaldi, K. A., Lodi, A., & Bosco, G. (2013). Nutrients, 5 (12), 5205-17. doi:10.3390/nu5125205
Effect of ketogenic Mediterranean diet with phytoextracts and low carbohydrates/high-protein meals on weight, cardiovascular risk factors, body composition and diet compliance in Italian council employees. Paoli, A., Cenci, L., & Grimaldi, K. A. (2011). Nutrition journal, 10, 112. doi:10.1186/1475-2891-10-112
Mediterranean Diet Reduces Risk of Incident Stroke in a Population With Varying Cardiovascular Disease Risk Profiles. Paterson, K. E., Myint, P. K., Jennings, A., Bain, L., Lentjes, M., Khaw, K. T., & Welch, A. A. (Oct 2018). Stroke, 49 (10), 2415-2420. Advance online publication. doi:10.1161/STROKEAHA.117.020258
Ahmad S, Moorthy MV, Demler OV, et al. Assessment of Risk Factors and Biomarkers Associated With Risk of Cardiovascular Disease Among Women Consuming a Mediterranean Diet. JAMA Netw Open. Dec. 7, 2018;1(8):e185708. doi:10.1001/jamanetworkopen.2018.5708
Marialaura Bonaccio, Augusto Di Castelnuovo, Simona Costanzo, Mariarosaria Persichillo, Amalia De Curtis, Chiara Cerletti, Maria Benedetta Donati, Giovanni de Gaetano, Licia Iacoviello. Interaction between Mediterranean diet and statins on mortality risk in patients with cardiovascular disease: Findings from the Moli-sani Study. International Journal of Cardiology, 2018; DOI: 10.1016/j.ijcard.2018.11.117
Effect of Distinct Lifestyle Interventions on Mobilization of Fat Storage Pools: The CENTRAL MRI Randomized Controlled Trial. Yftach Gepner, Ilan Shelef, Dan Schwarzfuchs, Hila Zelicha, Lilac Tene, Anat Yaskolka Meir, Gal Tsaban, Noa Cohen, Nitzan Bril, Michal Rein, Dana Serfaty, Shira Kenigsbuch, Oded Komy, Arik Wolak, Yoash Chassidim, Rachel Golan, Hilla Avni-Hassid, Avital Bilitzky, Benjamin Sarusi, Eyal Goshen, Elad Shemesh, Yaakov Henkin, Michael Stumvoll, Matthias Blüher, Joachim Thiery, Uta Ceglarek, Assaf Rudich, Meir J. Stampfer and Iris Shai. Circulation 2017;CIRCULATION AHA.117.030501, 2017.
Zong, G., Li, Y., Wanders, A.J., Alssema, M., Zock, P.L., Willett, W.C., Hu, F.B., Sun, Q. Intake of individual saturated fatty acids and risk of coronary heart disease in US men and women: two prospective longitudinal cohort studies BMJ. 2016;355:i5796.
Wiley. Fish consumption may prolong life. ScienceDaily, 18 July 2018. www.sciencedaily.com/releases/2018/07/180718082138.htm
Zhang, P. Zhuang, W. He, J. N. Chen, W. Q. Wang, N. D. Freedman, C. C. Abnet, J. B. Wang, J. J. Jiao. Association of fish and long-chain omega-3 fatty acids intakes with total and cause-specific mortality: prospective analysis of 421 309 individuals. Journal of Internal Medicine, 2018; DOI: 10.1111/joim.12786
Dietary Fats and Cardiovascular Disease: A Presidential Advisory From the American Heart Association Frank M. Sacks, MD, FAHA, Chair, Alice H. Lichtenstein, DSc, FAHA, Jason H.Y. Wu, PhD, MSc, Lawrence J. Appel, MD, MPH, FAHA, Mark A. Creager, MD, FAHA, Penny M. Kris-Etherton, PhD, RD, FAHA, Michael Miller, MD, FAHA, Eric B. Rimm, ScD, FAHA, Lawrence L. Rudel, PhD, FAHA, Jennifer G. Robinson, MD, MPH, FAHA, Vice Chair, Neil J. Stone, MD, FAHA, and Linda V. Van Horn, PhD, RD, FAHA, Vice Chair On behalf of the American Heart Association.
Mediterranean Diet Reduces Risk of Incident Stroke in a Population With Varying Cardiovascular Disease Risk Profiles. Paterson, K. E., Myint, P.K., Jennings, A., Bain, L., Lentjes, M., Khaw, K.T., & Welch, A.A. (Oct 2018). Stroke, 49 (10), 2415-2420. Advance online publication. doi:10.1161/STROKEAHA.117.020258
Adherence to the Mediterranean diet attenuates inflammation and coagulation process in healthy adults: The Attica study. Journal of the American College of Cardiology. 2004. https://doi.org/10.1016/j.jacc.2004.03.039.
Teresa T Fung, Marjorie L McCullough, PK Newby, JoAnn E Manson, James B Meigs, Nader Rifai, Walter C Willett, Frank B Hu. Diet-quality scores and plasma concentrations of markers of inflammation and endothelial dysfunction, The American Journal of Clinical Nutrition, Volume 82, Issue 1, July 2005, Pages 163-173, https://doi.org/10.1093/ajcn/82.1.163
Estruch R, Martínez-González MA, Corella D, et al. Effects of a Mediterranean-style diet on cardiovascular risk factors: a randomized trial [published correction appears in Ann Intern Med. 2018 Aug 21;169(4):270-271]. Ann Intern Med. 2006;145(1):1-11. doi:10.7326/0003-4819-145-1-200607040-00004
Schwingshackl L, Christoph M, Hoffmann G. Effects of Olive Oil on Markers of Inflammation and Endothelial Function-A Systematic Review and Meta-Analysis. Nutrients. 2015;7(9):7651-7675. Published 2015 Sep 11. doi:10.3390/nu7095356
Medina-Remón A, Casas R, Tressserra-Rimbau A, et al. Polyphenol intake from a Mediterranean diet decreases inflammatory biomarkers related to atherosclerosis: a substudy of the PREDIMED trial. Br J Clin Pharmacol. 2017;83(1):114-128. doi:10.1111/bcp.12986
Sureda A, Bibiloni MDM, Julibert A, et al. Adherence to the Mediterranean Diet and Inflammatory Markers. Nutrients. 2018;10(1):62. Published 2018 Jan 10. doi:10.3390/nu10010062
Ruiz-Canela M, Estruch R, Corella D, Salas-Salvadó J, Martínez-González MA. Association of Mediterranean diet with peripheral artery disease: the PREDIMED randomized trial [published correction appears in JAMA. 2018 Dec 4;320(21):2272]. JAMA. 2014;311(4):415-417. doi:10.1001/jama.2013.280618
Martínez-González MA, Salas-Salvadó J, Estruch R, et al. Benefits of the Mediterranean Diet: Insights From the PREDIMED Study. Prog Cardiovasc Dis. 2015;58(1):50-60. doi:10.1016/j.pcad.2015.04.003
Primary Prevention of Cardiovascular Disease with a Mediterranean Diet. Ramón Estruch, Emilio Ros, Jordi Salas-Salvadó, et al. The New England Journal of Medicine. Massachusetts Medical Society. Apr 4, 2013 https://www.nejm.org/doi/full/10.1056/NEJMoa1200303
Anti-inflammatory Therapy with Canakinumab for Atherosclerotic Disease. Paul M Ridker, Brendan M. Everett, Tom Thuren. The New England Journal of Medicine, Sep 21, 2017 https://www.nejm.org/doi/full/10.1056/NEJMoa1707914
Baker ME, DeCesare KN, Johnson A, Kress KS, Inman CL, Weiss EP. Short-Term Mediterranean Diet Improves Endurance Exercise Performance: A Randomized-Sequence Crossover Trial. J Am Coll Nutr. 2019 Sep-Oct;38(7):597-605. doi: 10.1080/07315724.2019.1568322. Epub 2019 Feb 13. PMID: 30758261.
Oleuropein, a Phenolic Compound in Extra Virgin Olive Oil, Increases Uncoupling Protein 1 Content in Brown Adipose Tissue and Enhances Noradrenaline and Adrenaline Secretions in Rats, Journal of Nutritional Science and Vitaminology, Released November 11, 2008 Yuriko Oi-Kano, Teruo Kawada, Tatsuo Watanabe, Fumihiro Koyama, Kenichi Watanabe, Reijirou Senbongi, Kazuo Iwai.
Nut intake and 5-year changes in body weight and obesity risk in adults: results from the EPIC-PANACEA study. European Journal of Nutrition, 2017, Page 1 Heinz Freisling, Hwayoung Noh, Nadia Slimani.