Articles by category

: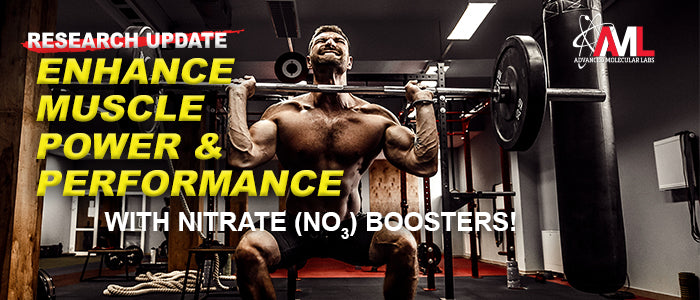 Unleash Your Muscle Potential with Nitrate Supplements
 By Steve Blechman
Recently, a review study and meta-analysis was published in the May-June 2023 issue of the Journal of the American Nutrition Association on the potential muscle performance benefits of nitrate (N03) booster supplementation in quick, short, high-intensity explosive exercise such as sprinting and weightlifting.
Nineteen (19) human studies met the inclusion criteria in this meta-analysis. "The studies included in the systemic review were high quality with many scoring 10/10. All studies were placebo-controlled, randomized crossover experiments with low selection/detection bias, double-blinded and with low performance bias." Randomized studies are considered the gold standard. Randomization is important for establishing cause and effect.
Nitrate (NO3) booster research is building and "the findings from this meta-analysis highlights the potential positive ergogenic effect of dietary and NO3 supplementation" on skeletal muscle contractility, peak power output (PPO), mean power outputs (MPO) in healthy humans. The researchers acknowledge "our findings support and extends to the findings of previous systemic reviews and meta-analysis that have reported that an NO3 supplementation (or nitrate oxide supplements) can enhance muscle power and performance in healthy adults and trained individuals."
Another recent meta-analysis study and review was published May 31, 2023, in the Journal Antioxidants. It reported that dietary nitrate (NO3) supplementation improved performance outcomes during single and repeated bouts of short duration, high-intensity exercise. "The systemic review and meta-analysis included 27 and 23 studies respectfully." The researchers concluded that "athletes competing in sports requiring single or repeated bouts of high intensity exercise may benefit from NO3 supplementation."
"Nitric oxide stimulating dietary supplements are widely available and marketed to strength athletes and weightlifters seeking to increase muscle performance and augment training adaptations. These supplements contain ingredients classified as nitric oxide (NO) precursor (i.e., "NO boosters")." (Nutrients, January 28, 2023)
The most popular NO precursors include the amino acid L-citrulline or citrulline malate, which provides one of the body's two nitric oxide pathways (citrulline arginine pathway). The other pathway is the nitrate-nitrite pathway. Both pathways boost nitric oxide, which may enhance exercise performance.
"Nitrates (NO3) have become increasingly popular for their potential role as an ergogenic aid" and improving human performance.
A review of the scientific literature has shown that nitrate taken acutely or chronically in the range up 300 to 1,041 milligrams two to three hours before exercise is an effective ergogenic aid. (Nutrients, September 13, 2021)
Research has shown that for muscle strength gains, a minimum acute dose of 400 milligrams of nitrate (NO3) provides the best results. (Journal of Strength and Conditioning Research, December 1, 2022)
Introducing Advanced Molecular Labs (AML) NITRATE NO3 BOOSTER, a high-performance, scientifically advanced, super nitrate (NO3) formula. It contains patented citrulline nitrate (NO3T®), a patented nitric oxide (NO) booster that promotes nitric oxide by two pathways (L-citrulline and nitrate) in a single ingredient.†
Citrulline nitrate is a unique nitric oxide-boosting compound containing the amino acid L-citrulline, specifically bonded to nitrate. Nitrate is naturally found in red beets, spinach, kale, and arugula and is converted to nitric oxide in the body. Citrulline is found in a number of foods such as watermelon, and as a dietary supplement is superior to L-arginine for increasing blood levels of arginine. Therefore, L-citrulline is more effective than L-arginine for boosting nitric oxide production.†
Arginine is a precursor, which the body uses to generate nitric oxide – an important signaling molecule that may improve muscular function and exercise performance. Nitric oxide (NO) enhances vasodilation (widening of blood vessels), which may favorably impact greater blood flow, oxygen and nutrient delivery to working muscles.†
Greater nitric oxide (NO) production supports better muscle pumps! Nitric oxide (NO) may also enhance energy production, work capacity, time to exhaustion and increasing the number of repetitions performed in the gym during training.†
AML NITRATE NO3 BOOSTER capsules contain 2000mg of citrulline nitrate per dose (standardized for 27% nitrate providing 540mg nitrate).
AML NITRATE NO3 BOOSTER also contains a science-based, synergistic blend of nitric oxide-boosting vitamins, antioxidants and polyphenols: Folic Acid, Vitamin B-12, Vitamin C, Pine Bark Extract (standardized for 95% Proanthocyanidins), and Grape Skin Extract (standardized for 30% polyphenols), to help maximize and support nitric oxide (NO) production and bioavailability.†
For Best results, AML NITRATE NO3 BOOSTER capsules can be taken 1-1½ hours before exercise with AML PREWORKOUT or AML PREWORKOUT X-TREME.
AML NITRATE NO3 BOOSTER capsules can also be taken 1-1½ hours before bedtime with AML SEX COCKTAIL for better sexual performance in the bedroom.
If preferred, capsules can be opened and added to AML Preworkout or AML Sex Cocktail.
† These statements have not been evaluated by the U.S. Food and Drug administration. This product is not intended to diagnose, treat, cure, or prevent any disease.
© Published by Advanced Research Media, Inc. 2023
© Reprinted with permission from Advanced Research Media, Inc.
References:
Esen O, Dobbin N, Callaghan MJ. The Effect of Dietary Nitrate on the Contractile Properties of Human Skeletal Muscle: A Systematic Review and Meta-Analysis. J Am Nutr Assoc. 2023 May-Jun;42(4):327-338. doi:
Alsharif NS, Clifford T, Alhebshi A, Rowland SN, Bailey SJ. Effects of Dietary Nitrate Supplementation on Performance during Single and Repeated Bouts of Short-Duration High-Intensity Exercise: A Systematic Review and Meta-Analysis of Randomised Controlled Trials. Antioxidants (Basel). 2023 May 31;12(6):1194. doi: 10.3390/antiox12061194. PMID: 37371924; PMCID: PMC10294948.
Gonzalez AM, Townsend JR, Pinzone AG, Hoffman JR. Supplementation with Nitric Oxide Precursors for Strength Performance: A Review of the Current Literature. Nutrients. 2023 Jan 28;15(3):660. doi: 10.3390/nu15030660. PMID: 36771366; PMCID: PMC9921013.
Macuh M, Knap B. Effects of Nitrate Supplementation on Exercise Performance in Humans: A Narrative Review. Nutrients. 2021 Sep 13;13(9):3183. doi: 10.3390/nu13093183. PMID: 34579061; PMCID: PMC8465461.
Anderson OK, Martinez-Ferran M, Lorenzo-Calvo J, Jiménez SL, Pareja-Galeano H. Effects of Nitrate Supplementation on Muscle Strength and Mass: A Systematic Review. J Strength Cond Res. 2022 Dec 1;36(12):3562-3570. doi: 10.1519/JSC.0000000000004101. Epub 2021 Jul 8. PMID: 36417361.
Aucouturier J, Boissière J, Pawlak-Chaouch M, Cuvelier G, Gamelin FX. Effect of dietary nitrate supplementation on tolerance to supramaximal intensity intermittent exercise. Nitric Oxide. 2015 Sep 15;49:16-25. doi: 10.1016/j.niox.2015.05.004. Epub 2015 May 29. PMID: 26028570.
Le Roux-Mallouf T, Pelen F, Vallejo A, Halimaoui I, Doutreleau S, Verges S. Effect of chronic nitrate and citrulline supplementation on vascular function and exercise performance in older individuals. Aging (Albany NY). 2019 May 29;11(10):3315-3332. doi: 10.18632/aging.101984. PMID: 31141497; PMCID: PMC6555465.
San Juan AF, Dominguez R, Lago-Rodríguez Á, Montoya JJ, Tan R, Bailey SJ. Effects of Dietary Nitrate Supplementation on Weightlifting Exercise Performance in Healthy Adults: A Systematic Review. Nutrients. 2020 Jul 26;12(8):2227. doi: 10.3390/nu12082227. PMID: 32722588; PMCID: PMC7469052.
Tan R, Cano L, Lago-Rodríguez Á, Domínguez R. The Effects of Dietary Nitrate Supplementation on Explosive Exercise Performance: A Systematic Review. Int J Environ Res Public Health. 2022 Jan 11;19(2):762. doi: 10.3390/ijerph19020762. PMID: 35055584; PMCID: PMC8775572.
Coggan AR, Baranauskas MN, Hinrichs RJ, Liu Z, Carter SJ. Effect of dietary nitrate on human muscle power: a systematic review and individual participant data meta-analysis. J Int Soc Sports Nutr. 2021 Oct 9;18(1):66. doi: 10.1186/s12970-021-00463-z. PMID: 34625064; PMCID: PMC8501726.
Garnacho-Castaño MV, Sánchez-Nuño S, Molina-Raya L, Carbonell T, Maté-Muñoz JL, Pleguezuelos-Cobo E, Serra-Payá N. Circulating nitrate-nitrite reduces oxygen uptake for improving resistance exercise performance after rest time in well-trained CrossFit athletes. Sci Rep. 2022 Jun 11;12(1):9671. doi: 10.1038/s41598-022-13786-x. PMID: 35690665; PMCID: PMC9188609.
Husmann F, Bruhn S, Mittlmeier T, Zschorlich V, Behrens M. Dietary Nitrate Supplementation Improves Exercise Tolerance by Reducing Muscle Fatigue and Perceptual Responses. Front Physiol. 2019 Apr 24;10:404. doi: 10.3389/fphys.2019.00404. PMID: 31068827; PMCID: PMC6491676.
Richards JC, Racine ML, Hearon CM Jr, Kunkel M, Luckasen GJ, Larson DG, Allen JD, Dinenno FA. Acute ingestion of dietary nitrate increases muscle blood flow via local vasodilation during handgrip exercise in young adults. Physiol Rep. 2018 Jan;6(2):e13572. doi: 10.14814/phy2.13572. PMID: 29380952; PMCID: PMC5789727.
Jones AM, Thompson C, Wylie LJ, Vanhatalo A. Dietary Nitrate and Physical Performance. Annu Rev Nutr. 2018 Aug 21;38:303-328. doi: 10.1146/annurev-nutr-082117-051622. PMID: 30130468.
Nyakayiru J, van Loon LJC, Verdijk LB. Could intramuscular storage of dietary nitrate contribute to its ergogenic effect? A mini-review. Free Radic Biol Med. 2020 May 20;152:295-300. doi: 10.1016/j.freeradbiomed.2020.03.025. Epub 2020 Mar 26. PMID: 32224084.
(Poly)phenols and nitrolipids: Relevant participants in nitric oxide metabolism. César G. Fraga, Andrés Trostchansky, Barbara S. Rocha, João Laranjinha, Homero Rubbo, Monica Galleano. Molecular Aspects of Medicine. February 2023.
Kadach S, Park JW, Stoyanov Z, Black MI, Vanhatalo A, Burnley M, Walter PJ, Cai H, Schechter AN, Piknova B, Jones AM. 15 N-labeled dietary nitrate supplementation increases human skeletal muscle nitrate concentration and improves muscle torque production. Acta Physiol (Oxf). 2023 Mar;237(3):e13924. doi: 10.1111/apha.13924. Epub 2023 Jan 18. PMID: 36606507.
Bryan NS, Ahmed S, Lefer DJ, Hord N, von Schwarz ER. Dietary nitrate biochemistry and physiology. An update on clinical benefits and mechanisms of action. Nitric Oxide. 2023 Mar 1;132:1-7. doi: 10.1016/j.niox.2023.01.003. Epub 2023 Jan 20. PMID: 36690137.
Zhang Y, Zhang H, An W, Li D, Qin L. Regulatory effect of dietary nitrate on blood pressure: a meta-analysis of randomized controlled trials. Food Funct. 2023 Feb 21;14(4):1839-1850. doi: 10.1039/d2fo03140j. PMID: 36740972.
Lbban E, Ashor A, Shannon OM, Idris I, Siervo M. Is vitamin C a booster of the effects of dietary nitrate on endothelial function? Physiologic rationale and implications for research. Nutrition. 2023 May;109:111995. doi: 10.1016/j.nut.2023.111995. Epub 2023 Feb 7. PMID: 36917872.
Pekas EJ, Anderson CP, Park SY. Moderate dose of dietary nitrate improves skeletal muscle microvascular function in patients with peripheral artery disease. Microvasc Res. 2023 Mar;146:104469. doi: 10.1016/j.mvr.2022.104469. Epub 2022 Dec 21. PMID: 36563997.
Mattos S, Cunha MR, Marques BC, D El-Rei J, Baião DDS, Paschoalin VMF, Oigman W, Neves MF, Medeiros F. Acute Effects of Dietary Nitrate on Central Pressure and Endothelial Function in Hypertensive Patients: A Randomized, Placebo-Controlled Crossover Study. Arq Bras Cardiol. 2023 Jan 9;120(1):e20220209. English, Portuguese. doi: 10.36660/abc.20220209. PMID: 36629601; PMCID: PMC9833313.
Serreli G, Deiana M. Role of Dietary Polyphenols in the Activity and Expression of Nitric Oxide Synthases: A Review. Antioxidants (Basel). 2023 Jan 7;12(1):147. doi: 10.3390/antiox12010147. PMID: 36671009; PMCID: PMC9854440.
Kwak CJ, Kubo E, Fujii K, Nishimura Y, Kobuchi S, Ohkita M, Yoshimura M, Kiso Y, Matsumura Y. Antihypertensive effect of French maritime pine bark extract (Flavangenol): possible involvement of endothelial nitric oxide-dependent vasorelaxation. J Hypertens. 2009 Jan;27(1):92-101. doi: 10.1097/hjh.0b013e3283186994. PMID: 19145776.
Nishioka K, Hidaka T, Nakamura S, Umemura T, Jitsuiki D, Soga J, Goto C, Chayama K, Yoshizumi M, Higashi Y. Pycnogenol, French maritime pine bark extract, augments endothelium-dependent vasodilation in humans. Hypertens Res. 2007 Sep;30(9):775-80. doi: 10.1291/hypres.30.775. PMID: 18037769.
Madeira SV, de Castro Resende A, Ognibene DT, de Sousa MA, Soares de Moura R. Mechanism of the endothelium-dependent vasodilator effect of an alcohol-free extract obtained from a vinifera grape skin. Pharmacol Res. 2005 Oct;52(4):321-7. doi: 10.1016/j.phrs.2005.05.005. PMID: 16023862.
Fitzpatrick DF, Hirschfield SL, Coffey RG. Endothelium-dependent vasorelaxing activity of wine and other grape products. Am J Physiol. 1993 Aug;265(2 Pt 2):H774-8. doi: 10.1152/ajpheart.1993.265.2.H774. PMID: 8396352.
Ledda A, Belcaro G, Cesarone MR, Dugall M, Schönlau F. Investigation of a complex plant extract for mild to moderate erectile dysfunction in a randomized, double-blind, placebo-controlled, parallel-arm study. BJU Int. 2010 Oct;106(7):1030-3. doi: 10.1111/j.1464-410X.2010.09213.x. Epub 2010 Feb 22. PMID: 20184576.
Trebaticky B, Muchova J, Ziaran S, Bujdak P, Breza J, Durackova Z. Natural polyphenols improve erectile function and lipid profile in patients suffering from erectile dysfunction. Bratisl Lek Listy. 2019;120(12):941-944. doi: 10.4149/BLL_2019_158. PMID: 31855055.
Stanhewicz AE, Kenney WL. Role of folic acid in nitric oxide bioavailability and vascular endothelial function. Nutr Rev. 2017 Jan;75(1):61-70. doi: 10.1093/nutrit/nuw053. PMID: 27974600; PMCID: PMC5155615.
Taira J, Ogi T. Nitric Oxide Modulation by Folic Acid Fortification. Antioxidants (Basel). 2020 May 7;9(5):393. doi: 10.3390/antiox9050393. PMID: 32392814; PMCID: PMC7278735.
Stanhewicz AE, Alexander LM, Kenney WL. Folic acid supplementation improves microvascular function in older adults through nitric oxide-dependent mechanisms. Clin Sci (Lond). 2015 Jul;129(2):159-67. doi: 10.1042/CS20140821. PMID: 25748442; PMCID: PMC8080301.
Romero SA, Gagnon D, Adams AN, Moralez G, Kouda K, Jaffery MF, Cramer MN, Crandall CG. Folic acid ingestion improves skeletal muscle blood flow during graded handgrip and plantar flexion exercise in aged humans. Am J Physiol Heart Circ Physiol. 2017 Sep 1;313(3):H658-H666. doi: 10.1152/ajpheart.00234.2017. Epub 2017 Jun 30. PMID: 28667051; PMCID: PMC5625172.
Zhang Y, Zhang W, Dai Y, Jiang H, Zhang X. Serum Folic Acid and Erectile Dysfunction: A Systematic Review and Meta-Analysis. Sex Med. 2021 Jun;9(3):100356. doi: 10.1016/j.esxm.2021.100356. Epub 2021 May 26. PMID: 34051538; PMCID: PMC8240352.