Articles by category

: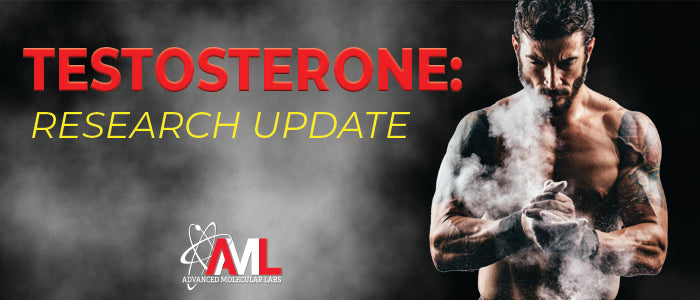 Testosterone: Research Update
category: Health, Testosterone Support
By Steve Blechman
Are testosterone boosters safe? A new study published June 1st, 2022, in the prestigious journal The Lancet Healthy Longevity "found no evidence that testosterone increased long-term to medium-term cardiovascular risk in men with hypogonadism." The study was a most in-depth "meta-analysis of more than 3,000 patients with hypogonadism from randomized placebo-controlled trials done by 17 research groups." 1,750 patients received testosterone and 1,681 were given a placebo for about 9.5 months.
The researchers found that "testosterone treatment did not have adverse effects on blood pressure or glycemic markers compared to placebo; furthermore, it did not increase thrombotic events despite increased haematocrit. Testosterone treatment was associated with a modest lowering of total HDL cholesterol and triglyceride concentration compared with placebo." Currently, a long-term 5-year testosterone clinical trial is being investigated in 5,000 men.
A study published March 2022 in the journal Endocrinology and Metabolism Clinics of North America reported that "middle-aged and older men with lower testosterone concentrations are more likely to have or to develop metabolic syndrome and type 2 diabetes. Central adiposity is risk factor from metabolic syndrome and diabetes and predisposed to lower testosterone concentrations. Conversely, testosterone treatment reduces fat mass and insulin resistance. In a randomized control trial of 1,007 men with either impaired glucose tolerance or newly diagnosed type 2 diabetes, two years of testosterone treatment on a background of lifestyle intervention reduced the risk of type 2 diabetes by 40%; this demonstrates the potential utility for testosterone pharmacology to prevent diabetes in men," according to the researchers.
A study published January 2022 in the journal Andrology reported that "circulating testosterone levels have been found to be reduced in men with severe acute respiratory syndrome coronavirus 2 infection, COVID-19, with lower levels being associated with more severe clinical outcomes.
In a seven-month cohort study in males with COVID-19, "testosterone levels increased over time after COVID-19, more than 50% of men who recovered from the disease still had circulated testosterone levels suggested for a condition of hypogonadism at seven-month follow up. In as many as 10% of cases, testosterone levels even further decreased."
Recently, "Decreased serum testosterone levels have been reported to be caused by obstructive sleep apnea (OSA). A new study published July 29th, 2022, further confirmed that OSA is "significantly correlated with the decrease in serum testosterone levels in men." The researchers "performed a meta-analysis to assess the association between OSA and serum testosterone levels."
The meta-analysis "included 24 case-control studies with 1,389 patients (1,268 male patients) and 845 controls (745 male control). The serum testosterone levels in the male OSA group were significantly lower than the control group." The researchers said that "male patients with OSA should be alerted to secondary diseases caused by low testosterone."
A study published June 2022 in the journal Endocrine Connections, reported that a random population sample of 1,400 men in Sweden that high C-reactive protein (CRP) was associated with lower "bioavailable testosterone and increased risk of biochemical hypogonadism." CRP is the measure of systemic inflammation. It is produced in the liver and released in response to inflammation in the body. A simple blood test can measure CRP and inflammation in the body. The researchers acknowledge we need to "better understand the possible impact of inflammation on sexual hormonal secretion and male health."
Certain weight-loss diets can lower testosterone. It was reported in the journal Nutrition and Health, March 7, 2022, a meta-analysis of 27 studies including 309 participants reported that a low carbohydrate and "high in protein diets cause a large decrease in resting testosterone."
It was also reported in the journal Nutrients on June 3rd, 2022 that "intermittent fasting reduced testosterone levels in lean, physically active, young males." The researchers said "fasting men may be shown to decrease androgens among males, which could negatively affect metabolic health and libido. More research is warranted to confirm these preliminary findings."
THE BEST TESTOSTERONE BOOSTING DIET
When it comes to diet, low-fat diets lower testosterone levels. Saturated and monounsaturated fatty acids have been shown to directly and systematically boost testosterone while polyunsaturated fats, by and large, inhibit testosterone production. Arachidonic acid, an omega-6 derived polyunsaturated fatty acid, does support testosterone production, but I do not recommend it as a dietary supplement because it is a substrate for the inflammatory cascade and inflammation in the body. You get all the arachidonic acid you need from the diet. No need to take supplemental arachidonic acid, as it may increase inflammation and the risk of heart disease and other degenerative diseases. The best and healthiest fats for boosting testosterone are monounsaturated fats, which are found preferably in extra-virgin olive oil, avocados and nuts. Not saturated fats, which can increase the risk of cardiovascular disease. Nuts are high in zinc and magnesium. Diets deficient in zinc can lower testosterone levels. Zinc supplements have also been shown to increase testosterone in zinc-deficient adults. Also, oral zinc supplements increase total and free testosterone levels in elite athletes after exhaustion exercise. Also, low vitamin D is linked to low testosterone.
Coffee is also good for boosting testosterone. A Harvard University study led by Nichole Wedick showed that men who drink caffeinated coffee show increases in total testosterone and decreases in free estradiol (estrogen). Coffee is loaded with phenolic antioxidants that act as natural aromatase inhibitors, which prevent the conversion of testosterone to estrogen (Nutrition Journal, 2012). Among men, consumption of caffeinated coffee has been shown to raise testosterone levels and decrease total estrogen and estradiol levels.
So, if you want to boost testosterone and enhance fat loss, follow the Mediterranean diet. A study published in JAMA on April 25, 2018 found that the Mediterranean diet fights against frailty. It's just another study that supports the Mediterranean diet to preserve lean body mass and health during aging. It's also especially important to follow a high-intensity resistance training program for maintaining testosterone and enhancing lean body mass. Don't overdo long periods of cardiovascular, aerobic exercise as it can lower testosterone and encourage overtraining. Overtraining can lower testosterone and raise cortisol. Rest and recovery are important in maintaining normal, healthy testosterone levels.
© Published by Advanced Research Media, Inc., 2022
© Reprinted with permission from Advanced Research Media, Inc.
References:
Hudson J, Cruickshank M, Quinton R, Aucott L, Aceves-Martins M, Gillies K, Bhasin S, Snyder PJ, Ellenberg SS, Grossmann M, Travison TG, Gianatti EJ, van der Schouw YT, Emmelot-Vonk MH, Giltay EJ, Hackett G, Ramachandran S, Svartberg J, Hildreth KL, Groti Antonic K, Brock GB, Tenover JL, Tan HM, Kong CHC, Tan WS, Marks LS, Ross RJ, Schwartz RS, Manson P, Roberts S, Andersen MS, Magnussen LV, Hernández R, Oliver N, Wu F, Dhillo WS, Bhattacharya S, Brazzelli M, Jayasena CN. Adverse cardiovascular events and mortality in men during testosterone treatment: an individual patient and aggregate data meta-analysis. Lancet Healthy Longev 2022 Jun;3(6):e381-e393. doi: 10.1016/S2666-7568(22)00096-4. PMID: 35711614; PMCID: PMC9184259.'
Little evidence testosterone treatment increases the risk of cardiovascular events, most in-depth analysis suggests by Lancet June 8, 2022. Medical Xpress https://medicalxpress.com/news/2022-06-evidence-testosterone-treatment-cardiovascular-events.html
Cienfuegos S, Corapi S, Gabel K, Ezpeleta M, Kalam F, Lin S, Pavlou V, Varady KA. Effect of Intermittent Fasting on Reproductive Hormone Levels in Females and Males: A Review of Human Trials. Nutrients 2022 Jun 3;14(11):2343. doi: 10.3390/nu14112343. PMID: 35684143; PMCID: PMC9182756.
Whittaker J, Harris M. Low-carbohydrate diets and men's cortisol and testosterone: Systematic review and meta-analysis. Nutr Health 2022 Mar 7:2601060221083079. doi: 10.1177/02601060221083079. Epub ahead of print. PMID: 35254136.
Wang H, Lu J, Xu L, Yang Y, Meng Y, Li Y, Liu B. Obstructive sleep apnea and serum total testosterone: a system review and meta-analysis. Sleep Breath 2022 Jul 29. doi: 10.1007/s11325-022-02655-6. Epub ahead of print. PMID: 35904664.
Wang H, Lu J, Xu L, Yang Y, Meng Y, Li Y, Liu B. Obstructive sleep apnea and serum total testosterone: a system review and meta-analysis. Sleep Breath 2022 Jul 29. doi: 10.1007/s11325-022-02655-6. Epub ahead of print. PMID: 35904664.
Yeap BB, Wittert GA. Testosterone, Diabetes Risk, and Diabetes Prevention in Men. Endocrinol Metab Clin North Am 2022 Mar;51(1):157-172. doi: 10.1016/j.ecl.2021.11.004. Epub 2022 Feb 8. PMID: 35216714.
Salonia A, Pontillo M, Capogrosso P, Gregori S, Carenzi C, Ferrara AM, Rowe I, Boeri L, Larcher A, Ramirez GA, Tresoldi C, Locatelli M, Cavalli G, Dagna L, Castagna A, Zangrillo A, Tresoldi M, Landoni G, Rovere-Querini P, Ciceri F, Montorsi F. Testosterone in males with COVID-19: A 7-month cohort study. Andrology 2022 Jan;10(1):34-41. doi: 10.1111/andr.13097. Epub 2021 Aug 31. PMID: 34409772; PMCID: PMC8444879.
Salonia A, Pontillo M, Capogrosso P, Gregori S, Carenzi C, Ferrara AM, Rowe I, Boeri L, Larcher A, Ramirez GA, Tresoldi C, Locatelli M, Cavalli G, Dagna L, Castagna A, Zangrillo A, Tresoldi M, Landoni G, Rovere-Querini P, Ciceri F, Montorsi F. Testosterone in males with COVID-19: A 7-month cohort study. Andrology 2022 Jan;10(1):34-41. doi: 10.1111/andr.13097. Epub 2021 Aug 31. PMID: 34409772; PMCID: PMC8444879.
Osmancevic A, Ottarsdottir K, Hellgren M, Lindblad U, Daka B. High C-reactive protein is associated with increased risk of biochemical hypogonadism: a population-based cohort study. Endocr Connect 2022 Jun 24;11(7):e220141. doi: 10.1530/EC-22-0141. PMID: 35904226; PMCID: PMC9254292.
Yftach Gepner, Ilan Shelef, Dan Schwarzfuchs, Hila Zelicha, Lilac Tene, Anat Yaskolka Meir, Gal Tsaban, Noa Cohen, Nitzan Bril, Michal Rein, Dana Serfaty, Shira Kenigsbuch, Oded Komy, Arik Wolak, Yoash Chassidim, Rachel Golan, Hilla Avni-Hassid, Avital Bilitzky, Benjamin Sarusi, Eyal Goshen, Elad Shemesh, Yaakov Henkin, Michael Stumvoll, Matthias Blüher, Joachim Thiery, Uta Ceglarek, Assaf Rudich, Meir J. Stampfer, Iris Shai. Effect of Distinct Lifestyle Interventions on Mobilization of Fat Storage Pools: The CENTRAL MRI Randomized Controlled Trial. Circulation 2017; CIRCULATIONAHA.117.030501 DOI: 10.1161/CIRCULATIONAHA.117.030501
Voelker R. The Mediterranean Diet's Fight Against Frailty. JAMA 2018;319(19):1971-1972. doi:10.1001/jama.2018.3653
Weight Loss with a Low-Carbohydrate, Mediterranean, or Low-Fat Diet. Iris Shai, R.D., Ph.D., Dan Schwarzfuchs, M.D., Yaakov Henkin, M.D., Danit R. Shahar, R.D., Ph.D., Shula Witkow, R.D., M.P.H., Ilana Greenberg, R.D., M.P.H., Rachel Golan, R.D., M.P.H., Drora Fraser, Ph.D., Arkady Bolotin, Ph.D., Hilel Vardi, M.Sc., Osnat Tangi-Rozental, B.A., Rachel Zuk-Ramot, R.N., Benjamin Sarusi, M.Sc., Dov Brickner, M.D., Ziva Schwartz, M.D., Einat Sheiner, M.D., Rachel Marko, M.Sc., Esther Katorza, M.Sc., Joachim Thiery, M.D., Georg Martin Fiedler, M.D., Matthias Blüher, M.D., Michael Stumvoll, M.D., and Meir J. Stampfer, M.D., Dr.P.H., for the Dietary Intervention Randomized Controlled Trial (DIRECT) Group. N Engl J Med 2008; 359:229-241July 17, 2008DOI: 10.1056/NEJMoa0708681
The effect of dietary oleic, linoleic, and linolenic acids on fat oxidation and energy expenditure in healthy men. Jones, Peter J.H. et al. Metabolism - Clinical and Experimental, Volume 57, Issue 9, 1198-1203
Nut intake and 5-year changes in body weight and obesity risk in adults: results from the EPIC-PANACEA study. European Journal of Nutrition 2017, Page 1 Heinz Freisling, Hwayoung Noh, Nadia Slimani.
Oleuropein, a Phenolic Compound in Extra Virgin Olive Oil, Increases Uncoupling Protein 1 Content in Brown Adipose Tissue and Enhances Noradrenaline and Adrenaline Secretions in Rats. Journal of Nutritional Science and Vitaminology, Released November 11, 2008 Yuriko Oi-Kano, Teruo Kawada, Tatsuo Watanabe, Fumihiro Koyama, Kenichi Watanabe, Reijirou Senbongi, Kazuo Iwai.
Primary Prevention of Cardiovascular Disease with a Mediterranean Diet Supplemented with Extra-Virgin Olive Oil or Nuts. Ramón Estruch, M.D., Ph.D., Emilio Ros, M.D., Ph.D., Jordi Salas-Salvadó, M.D., Ph.D., Maria-Isabel Covas, D.Pharm., Ph.D., Dolores Corella, D.Pharm., Ph.D., Fernando Arós, M.D., Ph.D., Enrique Gómez-Gracia, M.D., Ph.D., Valentina Ruiz-Gutiérrez, Ph.D., Miquel Fiol, M.D., Ph.D., José Lapetra, M.D., Ph.D., Rosa M. Lamuela-Raventos, D.Pharm., Ph.D., Lluís Serra-Majem, M.D., Ph.D., et al., for the PREDIMED Study Investigators. New England Journal of Medicine (NEJM) June 13, 2018 https://www.nejm.org/doi/full/10.1056/NEJMoa1800389
Fungwe TV, et al. Stimulation of fatty acid biosynthesis by dietary cholesterol and of cholesterol synthesis by dietary fatty acid. J Lipid Res 1994; 35(2): 311-8
Hrtado de Catalfo GE, de Alaniz MJ, et al. Influence of commercial dietary oils on lipid composition and testoerone production in interstitial cells isolated from rat testis. Lipids 2009; 44(4): 345-57.
The effect of exhaustion exercise on thyroid hormones and testosterone levels of elite athletes receiving oral zinc. Kilic M1, Baltaci AK, Gunay M, Gökbel H, Okudan N, Cicioglu, Neuro Endocrinol Lett 2006 Feb-Apr;27(1-2):247-52.
Zinc status and serum testosterone levels of healthy adults. A.S. Prasad, C.S. Mantzoros, F.W. Beck, J.W. Hess, G.J. Brewer. Nutrition 1996 May; 12(5): 344-348.
The effects of caffeinated and decaffeinated coffee on sex hormone-binding globulin and endogenous sex hormone levels: a randomized controlled trial. Nicole M WedickEmail author, Christos S Mantzoros, Eric L Ding, Aoife M Brennan, Bernard Rosner, Eric B Rimm, Frank B Hu and Rob M van Dam. Nutrition Journal 2012;11:86 https://doi.org/10.1186/1475-2891-11-86