Articles by category

: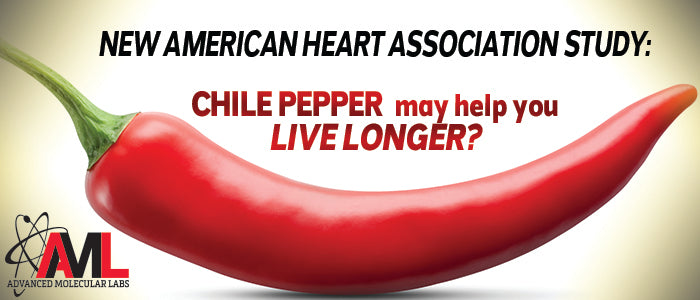 NEW AMERICAN HEART ASSOCIATION STUDY: CHILI PEPPER May Help You LIVE LONGER?
November 13, 2020
-
Admin
category: Energy, Fat Burning, Health, Muscle Growth, Performance, Recovery, Sleep, Strength, Thermo Heat, Thermo Heat Multi, Thermo Heat Nighttime, Thermo Heat™ Weight Loss Revolution
By Steve Blechman
The American Heart Association released a press release on November 9, 2020, which said: "Individuals who consume chili pepper may live longer and may have a significantly reduced risk of dying from cardiovascular disease or cancer, according to preliminary research to be presented at the American Heart Association's Scientific Sessions 2020. The meeting will be held virtually, Friday, November 13-Tuesday, November 17, 2020, and is a premier global exchange of the latest scientific advancements, research and evidence-based clinical practice updates in cardiovascular science for health care worldwide." The meeting will be held virtually on November 13, 2020.
"Previous studies have found eating chili pepper has an anti-inflammatory, antioxidant, anticancer and blood-glucose regulating effect due to capsaicin, which gives chili pepper its characteristic mild to intense spice when eaten. To analyze the effects of chili pepper on all-cause and cardiovascular disease mortality, researchers screened 4,729 studies from five leading global health databases (Ovid, Cochrane, Medline, Embase and Scopus). Their final analysis includes four large studies that included health outcomes for participants with data on chili pepper consumption."
"The health and dietary records of more than 570,000 individuals in the United States, Italy, China and Iran were used to compare the outcomes of those who consumed chili pepper to those who rarely or never ate chili pepper. Compared to individuals who rarely or never ate chili pepper, the analysis found that people who ate chili pepper had: 
26% relative reduction in cardiovascular mortality;
23% relative reduction in cancer mortality; and
25% relative reduction in all-cause mortality."
We were surprised to find that in these previously published studies, regular consumption of chili pepper was associated with an overall risk reduction of all-cause, CVD and cancer mortality. It highlights that dietary factors may play an important role in overall health," said senior author Bo Xu, M.D., cardiologist at the Cleveland Clinic's Heart, Vascular & Thoracic Institute in Cleveland, Ohio. "The exact reasons and mechanisms that might explain our findings, though, are currently unknown. Therefore, it is impossible to conclusively say that eating more chili pepper can prolong life and reduce deaths, especially from cardiovascular factors or cancer. More research, especially evidence from randomized controlled studies, is needed to confirm these preliminary findings."
Over 70% of Americans are overweight! Last month the Centers for Disease Control and Prevention (CDC) said that just being overweight, not obese, can result in severe illness. Research has found that exposure to cold temperature (65 degrees Fahrenheit) and consumption of spicy foods such as capsaicin found in chili peppers can activate brown fat and enhance weight loss.
Thermo Heat® Weight Loss Revolution is a groundbreaking scientific plan based on research involving brown adipose tissue (BAT) or brown fat, including eating spicy foods such as chili peppers containing capsaicin.
A true revolution absolutely requires a paradigm shift that fundamentally contradicts previously held notions. The widely held belief that all body fat is bad is currently being heavily scrutinized, due to the recent discovery of a different type of fat in humans known as brown fat. This type of body fat can actually burn off energy in the form of heat by a process known as thermogenesis, which can ultimately reduce overall body fat. This discovery has provided the requisite paradigm shift spawning a new revolution in weight loss that is the primary focus of the book, Thermo Heat® Weight Loss Revolution by Advanced Research Media.
Thermo Heat® Weight Loss Revolution offers its readers a nutrition, diet and exercise program that targets brown fat, along with an informational guide on the best thermogenic nutritional supplements. Additionally, a section of the book is devoted to appropriate brown fat-activating food choices and easy-to-follow, thermogenic fat-burning meal plans. Followers of this scientifically developed program will find that they are able to harness the power of brown fat, maximize their energy expenditure, reach and maintain their ideal weight and achieve reduced body fat while preserving a lean, muscular physique – improving overall health and well-being. The contents of the book go into the critical details required to really understand the remarkable capacity of brown fat to stimulate the thermogenic loss of those unwanted pounds, and how to maintain that weight loss for a lifetime. Thermo Heat® Weight Loss Revolution by Michael J. Rudolph, Ph.D. includes the foreword by Daniel L. Friedman, MD and Eugene B. Friedman, MD. You can click the link to order on Amazon here The book is published by Advanced Research Media, Inc. You can also get a free PDF version here.
©Published by from Advanced Research Media, Inc. 2020
©Reprinted with permission from Advanced Research Media, Inc.
References:
People who eat chili pepper may live longer? American Heart Association Scientific Sessions Report, Presentation P1036 https://newsroom.heart.org/news/people-who-eat-chili-pepper-may-live-longer November 9, 2020
Li R, Lan Y, Chen C, Cao Y, Huang Q, Ho CT, Lu M. Anti-obesity effects of capsaicin and the underlying mechanisms: a review. Food Funct. 2020 Sep 23;11(9):7356-7370. doi: 10.1039/d0fo01467b. PMID: 32820787.
Kida, R., Yoshida, H., Murakami, M., Shirai, M., Hashimoto, O., Kawada, T., Matsui, T., and Funaba, M. (2016) Direct action of capsaicin in brown adipogenesis and activation of brown adipocytes. Cell Biochem Funct, 34: 34-41. doi: 10.1002/cbf.3162.
Baskaran P, Krishnan V, Ren J, Thyagarajan B. Capsaicin induces browning of white adipose tissue and counters obesity by activating TRPV1 channel-dependent mechanisms. Br J Pharmacol. 2016 Aug;173(15):2369-89. doi: 10.1111/bph.13514. Epub 2016 Jun 21. PMID: 27174467; PMCID: PMC4945767.
Joslin Diabetes Center. Transplanted brown-fat-like cells hold promise for obesity and diabetes. ScienceDaily, 26 August 2020. www.sciencedaily.com/releases/2020/08/200826141413.htm
Chih-Hao Wang, Morten Lundh, Accalia Fu, Rókus Kriszt, Tian Lian Huang, Matthew D. Lynes, Luiz O. Leiria, Farnaz Shamsi, Justin Darcy, Bennett P. Greenwood, Niven R. Narain, Vladimir Tolstikov, Kyle L. Smith, Brice Emanuelli, Young-Tae Chang, Susan Hagen, Nika N. Danial, Michael A. Kiebish, Yu-Hua Tseng. CRISPR-engineered human brown-like adipocytes prevent diet-induced obesity and ameliorate metabolic syndrome in mice. Science Translational Medicine, August 26, 2020; 12 (558): eaaz8664 DOI: 10.1126/scitranslmed.aaz8664
Wang Y, Tang C, Tang Y, Yin H, Liu X. Capsaicin has an anti-obesity effect through alterations in gut microbiota populations and short-chain fatty acid concentrations. Food Nutr Res. 2020;64:10.29219/fnr.v64.3525. Published 2020 Feb 19. doi:10.29219/fnr.v64.3525
Chili Pepper Consumption and Mortality in Italian Adults. Marialaura Bonaccio, Augusto Di Castelnuovo, Simona Costanzo, Emilia Ruggiero, Amalia De Curtis, Mariarosaria Persichillo, Claudio Tabolacci, Francesco Facchiano, Chiara Cerletti, Maria Benedetta Donati, Giovanni de Gaetano, Licia Iacoviello, on behalf of the Moli-sani Study Investigators. J Am Coll Cardiol. 2019 Dec, 74 (25) 3139-3149.
Symonds, M. E., Aldiss, P., Pope, M. & Budge, H. Recent advances in our understanding of brown and beige adipose tissue: the good fat that keeps you healthy. F1000Res 7, https://doi.org/10.12688/f1000research.14585.1 (2018)
Ouellet, V. et al. Brown adipose tissue oxidative metabolism contributes to energy expenditure during acute cold exposure in humans. J Clin Invest 122, 545-552, https://doi.org/10.1172/JCI60433 (2012).
van Marken Lichtenbelt, W. D. et al. Cold-activated brown adipose tissue in healthy men. N Engl JMed 360, 1500-1508, https://doi. org/10.1056/NEJMoa0808718 (2009).
Darre, L. & Domene, C. Binding of Capsaicin to the TRPV1 Ion Channel. Mol Pharm 12, 4454-4465, https://doi.org/10.1021/acs. molpharmaceut.5b00641 (2015)
Derbenev, A. V. & Zsombok, A. Potential therapeutic value of TRPV1 and TRPA1 in diabetes mellitus and obesity. Semin Immunopathol 38, 397-406, https://doi.org/10.1007/s00281-015-0529-x (2016).
Luo, Z. et al. TRPV1 activation improves exercise endurance and energy metabolism through PGC-1alpha upregulation in mice. Cell Res 22, 551-564, https://doi.org/10.1038/cr.2011.205 (2012).