Articles by category

: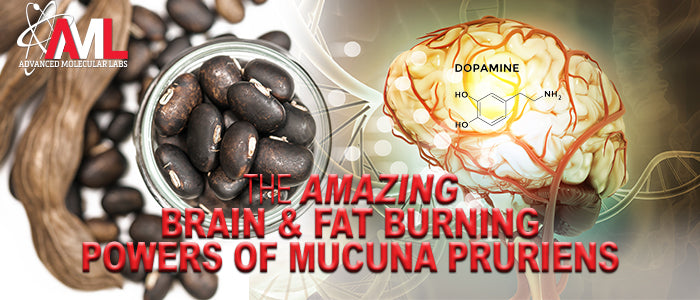 The Amazing Brain & Fat Burning Powers of Mucuna Pruriens
By Robert Schinetsky
Mucuna pruriens (aka velvet bean) has been widely used in Ayurveda as a nerve tonic and healing plant. The seeds in particular are esteemed for their antioxidant, neuroprotective, sexual health, and cardiovascular-supporting properties.
Today, we review several recent findings involving Mucuna pruriens extract and highlight its many benefits.
Mucuna Pruriens Supports Brain Health
Humans are living longer than ever thanks to advances in medicine, technology, and food production. An unfortunate by-product of increased life span is a greater incidence of cognitive decline worldwide.1,2,3
As mentioned above, Mucuna pruriens has a rich history of use for supporting cognitive function. In addition to the natural antioxidants, the seeds of Mucuna pruriens contain a vast array of bioactive compounds. The most notable of which is L-dopa – a dopamine precursor.
The powers of dopamine have been extensively discussed previously. It impacts a wide range of physiological functions, including reward, motivation, memory, mood, decision-making, and many more. Impaired dopamine synthesis is a known contributor to cognitive decline and can adversely impact creativity, drive, feelings of well-being, and motor control.
Since Mucuna pruriens contains natural dopamine support agents, it is recognized as a viable option for those looking to promote healthy brain function. Prior studies have been discussed at length in the AML Articles section, and researchers continue to investigate this fascinating pharmacotherapy. †
For example, a 2022 study, published in the highly respected journal Nutrients, found that Mucuna pruriens extract offered greater neuroprotective and acetylcholinesterase inhibitory activity compared to synthetic L-Dopa.4,5 †
Other "frontline" considerations for supporting cognitive health across an individual's life are acetylcholinesterase inhibitors and N-methyl-D-aspartate (NMDA) receptor antagonists; however, these same synthetic options often come with a laundry list of adverse effects. Mucuna pruriens is a natural source of dopamine precursors as well as antioxidants and assorted phytocompounds that support a healthy anti-inflammatory response. †
Another causative factor of cognitive decline (in addition to age and other various lifestyle factors) is the over-excitation of neurons ("excitotoxicity"). If you weren't aware, hyperexcitation of brain cells may lead to neurotoxicity due to various contributors, including glutamate toxicity and tau hyperphosphorylation. Tau is a protein that helps maintain neuronal cell microarchitecture. Hyperphosphorylation of tau can lead to neurofibrillary tangles, which leads to synapse loss, mitochondrial dysfunction, and memory loss.6
Recently published research demonstrates that Mucuna pruriens extract may help to limit NMDA receptor activity (and tau expression), which, in combination with its antioxidant and dopamine-supporting qualities, supports cognitive function and brain health.7 †
Mucuna Pruriens, Dopamine & Brown Fat Thermogenesis
In addition to its reward, motivation, and cognitive benefits, dopamine is also heavily involved in supporting a healthy metabolism and thermogenesis. Deficiencies in dopamine can reduce energy expenditure, and researchers have noted that obese humans have reduced dopamine levels and/or function.8,9
Recent cell culture studies have provided further insight into how the dopamine precursor, L-Dopa may improve energy expenditure and support body recomposition. Researchers found the exposing white fat cells to L-Dopa induced significant increase in the expressions of proteins involved in thermogenesis, suggesting enhanced lipolysis and fatty acid oxidation as well as reduced lipogenesis and adipogenesis (formation of fat cells from stem cells).10
Researchers concluded by saying, "...L-Dopa appears to be a promising therapeutic candidate in the fight against obesity due to its inherent role in the browning of 3T3-L1 adipocytes via both the dopaminergic and adrenergic pathways."10 †
While the link between dopamine and energy expenditure has previously been established, this new study was the first to indicate that L-Dopa can also help "brown" white fat cells via dopaminergic and adrenergic pathways.
Takeaway
The powers of dopamine never cease to amaze, and research continues to identify the myriad ways in which dopamine (as well as its precursors, L-Tyrosine and L-Dopa) can provide robust support for productivity, mental and physical performance, body recomposition, and health. †
That's why encouraging dopamine support lies at the heart of AML's extensive array of pre-workouts, nootropics and thermogenics. †
† These statements have not been evaluated by the Food and Drug administration. This product is not intended to diagnose, treat, cure, or prevent any disease.
© Published by Advanced Research Media, Inc. 2023
© Reprinted with permission from Advanced Research Media, Inc.

References:
GBD 2015 Neurological Disorders Collaborator Group. Global, regional, and national burden of neurological disorders during 1990-2015: A systematic analysis for the Global Burden of Disease Study 2015 http://www.thelancet.com/journals/laneur/article/PIIS1474-4422(17)30299-5/fulltext. Lancet Neurol 2017; Epub 2017 Sep 17.
Kamkaen, N.; Chittasupho, C.; Vorarat, S.; Tadtong, S.; Phrompittayarat, W.; Okonogi, S.; Kwankhao, P. Mucuna pruriens Seed Aqueous Extract Improved Neuroprotective and Acetylcholinesterase Inhibitory Effects Compared with Synthetic L-Dopa. Molecules 2022, 27, 3131. https://doi.org/10.3390/molecules27103131
Tambasco N, Romoli M, Calabresi P. Levodopa in Parkinson's Disease: Current Status and Future Developments. Curr Neuropharmacol. 2018;16(8):1239-1252. doi: 10.2174/1570159X15666170510143821. PMID: 28494719; PMCID: PMC6187751.
Gao Y, Tan L, Yu JT, Tan L. Tau in Alzheimer's Disease: Mechanisms and Therapeutic Strategies. Curr Alzheimer Res. 2018;15(3):283-300. doi: 10.2174/1567205014666170417111859. PMID: 28413986.
Parvatikar, P. P., Patil, S. M., Patil, B. S., Reddy, R. C., Bagoji, I., Kotennavar, M. S., Patil, S., Patil, A. V., Das, K. K., Das, S. N., & Bagali, S. (2023). Effect of Mucuna pruriens on brain NMDA receptor and tau protein gene expression in cerebral ischemic rats. Frontiers in Physiology, 14 (February), 1–10. https://doi.org/10.3389/fphys.2023.1092032
Beeler JA, Frazier CR, Zhuang X. Putting desire on a budget: dopamine and energy expenditure, reconciling reward and resources. Front Integr Neurosci. 2012 Jul 20;6:49. doi: 10.3389/fnint.2012.00049. PMID: 22833718; PMCID: PMC3400936.
Wang GJ, et al. Brain dopamine and obesity. Lancet. 2001;357:354-357.
Haddish, K., Yun, J.W. L-Dihydroxyphenylalanine (L-Dopa) Induces Brown-like Phenotype in 3T3-L1 White Adipocytes via Activation of Dopaminergic and β3-adrenergic Receptors. Biotechnol Bioproc E 27, 818-832 (2022). https://doi.org/10.1007/s12257-021-0361-1